Dear World Cup Diary
Sorry I haven't been about for a few days, had a lovely weekend away in the sunshine and then the old internet was playing up, so had trouble keeping all me social media followers up to date.  Normal service has now resumed though, so that's all fine.  Nephew had unplugged the router to charge his Switch or some such nonsense.  Took me hours to sort out, including an embarrassing call to BT to blame their poor service.  Well it usually is.
Well, let's start with England.  We're they fantastic?  OK, so Panama looked like they were just glad to be taking part, their fans were great and went bonkers when they got their consolation goal.  But Harry Kane and his magical chin got a hat-trick and it was the biggest win since the 1850s or something.  They played well, especially in that heat.  Imagine running around for 90 minutes in that.  I took the recycling bins out the other morning and was still sweating so much 20 minutes later that I had to change me shirt.
So that's them through to the next round, so we can all relax a bit.  So many of the big teams nearly went out Portugal, Spain, Argentina and of course the Germans.  But you just knew they'd pull the rabbit out of the hat at the end, didn't you!  And did you see how gutted all of the commentators were, they really thought the holders were a goner.  But it's not a good tournament without the hosts or the main baddies is it, so glad they all went through.
I watched it up north – so I had to put Big Dave and his selection of fine ales off until the next game.  So he'll be round on Thursday for the Belgians.  I think we're getting pizza too, delivered as a bit of a treat.  Reckon he'll want a meat feast or something though, so will have to think about i get out of that.  No need for three types of sausage on a pizza, it's unnecessary.  Any suggestions?
Right, couple of other things I spotted over the last few days:
Did you see the Iranian fellas throw in attempt, in the last minute of injury time, when they needed a goal? I thought is was great.  Taking his moment on the biggest stage of all, in front of billions of people, all across the globe …..
And this England photo, one of the comments I saw on Twitter (can't remember who, sorry) said that Harry Kane looks like he's going for a poo in a pub toilet.   And they're shocking at lining up properly for a team photo.  Bad formation.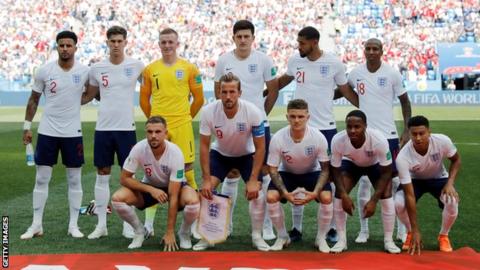 Have a cracking day and I'll be back soon.
Cheers
Ray